Since Johan started saying "Caa" for car, there isn't a day that he never says the word. He calls anything with wheels a car, even a bicycle or a trike.
We noticed he's gotten a not-so-small interest in trikes when we went to church one Sunday and there was this kid riding a trike. Johan went up to the kid and played with the trike's handles, tried to kick the pedal and, as usual, got amazed by the wheels.
So, hubby and I decided to get him a trike for Christmas. That'll be our gift to him. Question is what to get. I didn't realize there were so many choices. Here are some of them:
Fisher Price Kawasaki Tough Bike (source)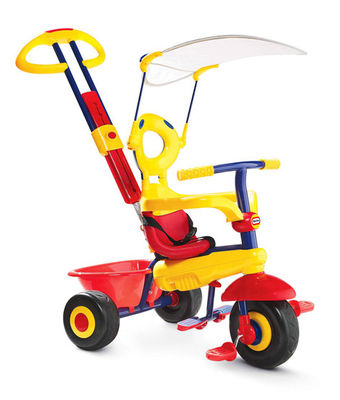 Little Tikes 3-in-1 Smart Trike (source)
I didn't know choosing bikes would be this hard. Personally, if only we can afford it, I'd love for Johan to have the Joovy Tricycoo.
It costs $89.99 on Amazon.com
.
I'm sure hubby and I will decide when we get to the toy store to actually buy one for Johan. I am 100% sure he'll love whatever we'll get him.
Gotta wrap up this post because the little boy is going crazy behind me seeing all these photos of the bikes, shouting "Caa! Caa!" over and over.